Death Notices and Obituary Index
For Milwaukee and the Surrounding Communities

Sources: The Milwaukee Journal, The Milwaukee Sentinel, other various newspapers
Publish dates: Various

See also Waukesha Obituaries
Milwaukee County Obits (offsite link)
Milwaukee Sentinel,Journal Death Notice Index (offsite link)
Milwaukee Obit Archives June 2001 (offsite link)
Milwaukee Obit Archives before June 2001 (offsite link)
Milwaukee Journal/Sentinel Obituaries (Fee Charged for archived obits)


[ A ] [ B ] [ C ] [ D ] [ E ] [ F ] [ G ] [ H ] [ I ] [ J ] [ K ] [ L ] [ M ] [ N ] [ O ] [ P ] [ Q ] [ R ] [ S ] [ T ] [ U ] [ V ] [ W ] [ Y ] [ Z ]
JOHN A. MAAS
Source: Der Nord Westen (Manitowoc, Wis), 08 Oct. 1896
Last Mon. came a report from Centerville that Capt. John A. Maas, the uncle of the Strattmann brothers of Centerville, had drowned in the Milwaukee River. As it is told to us, the old gentleman suffered a stroke in Mar. which almost killed him. It did however leave him quite weak and reduced his senses so that he could not discern danger in the dark. His sister, mother of the Strattmann brothers along with William Strattmann, went to Milwaukee and brought the body back. The deceased was the Captain of Company C, 17th Wisconsin Infantry Regiment. Buried Manitowoc County.
GENERAL ARTHUR MACARTHUR
Source: Milwaukee Journal or Sentinel Sept 9, 1912
HONORS PAID TO GEN. M'ARTHUR
Simplicity Marks Funeral Rites of Dead Army Man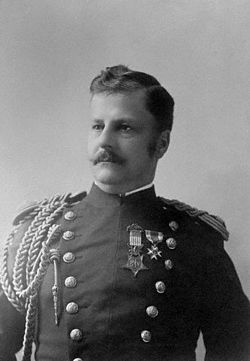 Milwaukee, Sept 9-simplicity marked the funeral rites today for General Arthur MacArthur, who died of apoplexy last Thursday night when addressing the survivors of the 24th Wisconsin Volunteers at their semi-annual reunion.
The service, conducted by the Rev. Dr. Paul B. Jenkins of Immanuel Presbyterian church, consisted only of scriptural reading and prayer, followed by reading of Wordsworth's poem "The Happy Warrior."
At the grave in Forest Home cemetery only the committal service of the Presbyterian church was used. There was no military salute.
The active pallbearers were chosen from the ranks of younger members of the the Loyal Legion. The honory pallbearers included Governor Francis e. McGovern, General Frederick C. Winkler and General Charles King.
G. W. MACKIE
(in a Milwaukee newspaper on Feb. 26, 1942)
G. W. MACKIE IS DEAD AT 69 - WAS OFFICER OF COKE, GAS, FIRM, ACTIVE AS MASON; FUNERAL SATURDAY
George W. Mackie, 69, a vice-president of the Milwaukee Coke & Gas Co., died Saturday morning at his home, 2235 E. Woodstock Pl. He had been ill since Christmas.
Mr. Mackie was born of Scotch parents in Wylam, England. When he was 10, he went to Canada with his parents. In 1900, he left home to seek work in the United States. He worked for the Coke & Gas Co. for the last 35 years, having started as a master mechanic. Mr. Mackie was a 32nd degree Mason and a member of the Milwaukee Athletic club for more than 35 years.
Survivors include his wife, Eva Ellsworth Mackie, and three daughters, Mrs. William R. Winter, Mrs. H. J. Winter and Mrs. Ruth Wise, all of Milwaukee.
Funeral services will be held at 3 p.m. Saturday at the Philip J. Weiss mortuary, 1901 N. Farwell av. Burial will be in Forest Home cemetery.
MAX MALLIN
March 12, 1901-Oct. 30, 2003
Born on March 12, 1901 in Russia, Max was brought here as a child by his parents who settled in Milwaukee. He went through high school and graduated from the UW Milwaukee School of Business. He recalls the two major jobs he held: in sales for Phillip Morris Tobacco Company and as credit manager for Vilter Manufacturing. He married Bertha Pasch and they had two children. There are six grandchildren.
Max remembers that his father did not have a car but that his older brothers had a Ford and he owned a car later. Both his brothers were in the service, "but," he says, "I was the wrong age for all the wars – too young for World War I and too old for World War II." Max gives young people advice: "I have enjoyed my life. The key is to work, to raise a family, and to be honest in your daily life."
Milwaukee Journal Sentinel (WI) - November 2, 2003
Mallin, Max W. Beloved patriarch of a close knit family passed away peacefully at age 102 on Oct. 30, 2003. Devoted husband of 59 years to the late Bertha Pasch Mallin. Cherished father of Dr. Sanford and Katharine Mallin, Ruth and William Braun. Loving grandfather to Susan Trones, Michael Braun, Steven and Karen Braun, Marjorie and Jonathan Margolies, Daniel and Deborah Mallin and Francine Mallin. Great-grandfather to Heidi Braun, Cory and Samuel Trones, Lauren and David Braun, Joseph and Michelle Margolies, Benjamin, Elliott and Jeremy Mallin. Preceded in death by his parents Samuel and Dora; brothers Harry and Meyer and daughter Judith Mallin. He was a lifelong member of Congregation Emanu-El B'ne Jeshurun. Graveside services Sunday, Nov. 2nd at 1 PM at Spring Hill Cemetery, 166 S. Hawley Ct., Milwaukee. In lieu of flowers, memorial contributions made to the charity of your choice would be appreciated. GOODMAN-BENSMAN WHITEFISH BAY FUNERAL HOME 4750 N. Santa Monica Blvd. 414-964-3111
KATHERINE MANIERRE
Milwaukee paper. Date of Death was March 27, 1974
MRS. KATHARINE N. MANIERRE Private services for Mrs. Katharine N. Manierre, 95, will be held at Forest Home Cemetery Friday Mrs. Manierre, a founder of the old Lake School for Girls, active in state and city art programs, and the Women's Suffrage Society, died Monday of old age complications at the Shorewood Hospital-Sanitarium. Her husband, the late George Manierre I I I, was a founder of the Milwaukee Country Day School. He died in 1960. She was a graduate of the Chicago Art Institute in 1901. She served on the Milwaukee Downer Seminary Board of Directors which emerged from the Lake School for Girls, was a past president and member of the Woman's Club of Wisconsin in Milwaukee, and a past member of the board of the Layton Art League. Mrs. Manierre was president of the Wisconsin chapter of the National Society of Colonial Dames from 1925 to 1927, a member of the Walrus Club and the Milwaukee Art Center. She is survived by two sons; three daughters; and two brothers, Egbert Newbury of Concord, Mass., and George Newbury, of Hendersonville, N. C. The family suggested memorials to the Milwaukee Art Center or the First Unitarian Church of Milwaukee.
LEOPOLD MANN
Source: Der Nord Westen, 22 Aug. 1901, Manitowoc, Wisconsin
Death in Two Rivers [Wisconsin] yesterday morning of LEOPOLD MANN, an eminent citizen of our [Manitowoc] neighbor city, following an 8-day confinement with a liver ailment. Mr. MANN was born in Prague in 1834 and came to America in 1846 with his parents who settled on a farm in the state of New York. When grown he came West and opened a store in West Bend, Wis. In 1862 he came to Two Rivers with his brothers HENRY, HERMANN and JOSEPH. The brothers took a share in a hardware store there which they later took over entirely. Since that time Mr. MANN resided in Two Rivers. His enterprising spirit and acts of charity are so widely known that we need not dwell on them. He is survived by 2 sons and a daughter. His body will be taken to Milwaukee tomorrow for burial there. A fine man has been lost with LEOPOLD MANN's death.
MRS. LEOPOLD MANN
Source: Der Nord Westen (Manitowoc, Wis), 26 July 1894
(From the correspondent in Two Rivers [Manitowoc County, Wis], 23 July)
Death at 3 p.m. yesterday after a long illness of Mrs. Leopold Mann. She was a friendly lady, giving a helping hand to the poor and needy. She leaves a husband and 3 children, one a married daughter in New York. Her body is being shipped to Milwaukee for burial.
Source: Der Nord Westen (Manitowoc, Wis), 02 Aug. 1894
(From the correspondent in Two Rivers, 30 July)
The body of Mrs. Leopold Mann, whose death was reported last week, was sent to Milwaukee on Wed. Many people went to the railroad station to say their goodbyes, including almost the entire work force of the Two Rivers Manufacturing Co.
AUGUST E. MANTHEY
Source: Milwaukee Herold, 27 Mar 1927
Translated and submitted by Gary/see contribributors page
The funeral for August E. Manthey, from 296 39th Street, who on Thursday , age 58 years, died, will be on Monday afternoon, at 2:00, in the chapel of the Kaufmann Brothers' Funeral Home, 10th and Center Street in the city. The burial will be at Forest Home Cemetery. The deceased was for many years the owner of the Manthey Manufacturing Co. In the year 1912 in a change of position, became a buyer for the Phillip Gross Hardware Co. and was active there until two years (… illegible - film scratched …) son Henry H. Manthey. The pall bearers will be C. E. Belsach, E. F. Schwandt, C. H. Bisch, J. C. Fischer, Fred Stabenau, und C. F. Bolter.
ELISE MANTHEY
Source: Germania -Taglicheblatt, 14 Sep 1893
Translated and submitted by Gary/see contribributors page
Elise Manthey -- Died on Monday [Wednesday], the 13 of Sept., midday at 1:00, age 17 years, 5 months, and 9 days. The funeral will be on Sunday, the 17 Sept., at 1:30 after midday, from the mourning home, No. 722 9th Street, to the [Union] cemetery
.
HEINRICH MANTHEY
Source: Milwaukee Herold und Seebote, 26 Jan 1908
Translated and submitted by Gary/see contribributors page
Heinrich Manthey -- Friend and neighbor, the sad news that the much beloved father, father-in-law, and grandfather, Heinrich Manthey, on Saturday, 25 January at 12:45 in the morning, age 76 years, 1 month, and 28 days, after long illness, is resting in peace. The funeral will be Monday, the 28 January, at 1:00 after midday, from the mourning home of son-in-law, Erich A. Haasch, No. 1444 25 Street, then to the Ev. Trinity Church, at 4th and Lee Street, and from there to Union Cemetery. Private condolences, please: the mourning and bereaved: In the Lord sleep! Blessed peace! You close your weary eyes in holy repose, peaceful and light, which foes can no longer disturb or break.
HENRIETTE LOUISE MANTHEY [NEE SCHROEDER]
Source: Milwaukee Herold und Seebote, 2 Jun 1905
Translated and submitted by Gary/see contribributors page
Henriette Louise Manthey [nee Schroeder] Friend and neighbor, the sad news that the much beloved wife, mother, mother-in-law and grandmother, Henriette Louise Manthey, on Monday, 20 June at 1:00 in the afternoon, age 70 years, 9 months, and 7 days, after a long serious illness, is resting in peace.
The funeral will be Friday, the 23 June, at 1:00 after midday, from the mourning home, of son-in-law, Erich A. Haasch, No. 1444 25 Street, then to Trinity Church, at 4th and Lee Street, and from there to Union Cemetery.
Private condolences, please: the mourning and bereaved: Heinrich Manthey, husband, together with children and relatives.
WILLIAM MARCH
Newspaper unknown probably Manitowoc
Called By Death Kiel friends will regret to learn of the death of William March, a former resident of this city, which occurred recently at the home of his sister, Mrs. Krueger in Milwaukee. He suffered a stroke of apoplexy six weeks ago and had apparently recovered but several days before his demise he suffered a relapse. Mr. March was 46 years old and a veteran of the Spanish-American war. He lived in Kiel a number of years, being employed at one of the factories. About three years ago he located at Milwaukee. Burial took place in that city. - March 1924
Robert Marquardt
Germania [Daily], 4 Oct 1893
Translated and submitted by Gary/see contribributors page
Robert Marquardt - Died on Tuesday, the 3rd October, 2:00 in the morning, age 35 years and 8 months. The funeral will be Thursday, the 5th October, at 2:00 after midday, from the mourning home, No. 830 Booth St., to the [Union] cemetery.
MARGARET MARTIN
Newspaper Unknown probably Manitowoc
On Thursday of last week Mrs. P. Willihnganz, was called to Milwaukee to the deathbed of her mother, Mrs. Peter Martin, who passed away on Saturday. She died a few days after her husband, who was called to his reward January 14. Margaret Reith was born in 1842 in France, where she spent her early childhood and came to America at the age of six. She was married to Peter Martin in that place and they began life together in Fredonia, where they lived until they moved on a farm in the town of New Holstein. In 1904, they came to Kiel, living here seven years when they moved to Milwaukee, to live with their daughter Jennie, where their death took place. Mrs. Martin is survived by six daughters, Mrs. D. Kultgen, Fredonia; Mrs. Peter Kellen, Grangeville, Iowa; Mrs. Peter Klein, Howard, S.D.; Mrs. Peter Fry, Hastings, Minn.; Mrs. Peter Willihnganz, Kiel; Jennie Martin, Milwaukee; two sons, Nic. Martin, Anton, Iowa; John Martin, Howard, S. Dak. Also 27 grandchildren, and 16 great-grandchildren are the descendents. The funeral was held Tuesday morning at St. Boniface church, Milwaukee, Rev. Stemper officiating.
PETER MARTIN
Peter Martin, a former resident of Kiel, died at his home in Milwaukee on Monday night at the age of 92 years, death being due to the infirmities of old age. Deceased was born in Belgium on Nov. 19, 1832, and came to this country as a lad of 16, settling at Holy Cross where the Fredonia depot now stands. In 1861 he was united in marriage to Margaret Rieth. Their union was blessed with ten children, of whom two died. After their marriage the couple moved to the town of New Holstein, where they reside for forty years. In 1904 they came to Kiel, living here seven years when they moved to Milwaukee. The following children survive: Mrs. D. Kultgen, Fredonia; Mrs. Peter Kellein, Alton, Iowa; Mrs. John Klein, Howard, S.D., Mrs. Peter Fry, Hastings, Minn.; Mrs. Peter Willihnganz, Kiel, Miss Jennie Martin at home; Nic. Martin, Alton, Iowa, and J. P. Martin, Epiphany, S. D.; also one sister, Mrs. Cath Siebenaler, Fredonia; 27 grandchildren, and 16 great grandchildren are his descendents. The funeral was held this (Thursday) morning at St. Boniface church, Milwaukee, Rev. Stemper officiating.
ELIZABETH MARKWIESE
Sent in by a researcher/see contributors page
Source: Milwaukee Journal, Aug. 12, 1976
MARKWIESE, Elizabeth, August 10, 1976, aged 83 years, beloved sister. Further survived by 2 nephews, other relatives and friends. Funeral services Friday, Aug. 13 at 9:30 a.m. from the funeral home to St. Sebastian Church for the Mass of Christian Burial at 10 a.m. Interment Calvary Cemetery. Parish vigil Thursday evening 7:30 p.m. Member of St. Sebastian Christian Mothers and an Auxiliary member of The Craig Schlosser Post No. 3. In state Thursday 4 to 9 p.m.
GEORGE MARZOLF
Sent in by a researcher/see contributors page
Source: Milwaukee Sentinel, Dec. 7, 1921
MARZOLF, George, beloved father of Rose Simmert, Julia Marzolf, George N. and Edwin P. Marzolf, and father-in-law of J.W. Zwaska, and A.G. Simmert and Margaret Marzolf, nee Halzen(sic), died Monday at __a.m. at the age of 85 years. Funeral Wednesday, Dec. 7, at 8:30 a.m. from residence 588 Third St. to St. Francis Church. Interment Calvary cemetery. Member of Third Order and Catholic Knights of Wisconsin. Please omit flowers.
CAROLINE MATHEUS
Sent in by a researcher/see contributors page
Source: Unknown, likely Milw. Newspaper
Mrs. Caroline Matheus, [(1842?)-2 Mar 1934] 91, a resident of Milwaukee for 79 years, died Friday of pneumonia at the home of her daughter, Mrs. Fred M. Haase, 2919 W. Juneau av.
She came to Richfield, Wis., from Germany when she was 4 years old. Her husband, John, who died 20 years ago, was once a member of the fire department.
Services will be held at 1:30 p.m. Monday at the Gerber funeral home, 1300 W. Juneau av., with burial in Union cemetery. Two sons, Henry and Louis, both of Milwaukee, survive, besides Mrs. Haase.
ANDREW McCORMICK
Sent in by a researcher/see contributors page
Source: Milwaukee Sentinal, Feb. 17, 1869
Andrew McCORMICK DEATH; An Old Citizen. Andrew McCormick, Esq., an old and respected citizen died at his residence on Michigan Street at four o'clock yesterday morning after a lingering illness of eighteen months. Mr. McCormick came to Milwaukee early in 1837, and removed to the interior. Being accustomed to city life, rural pursuits proved uncongenial to his tastes, under these circumstances it is not to be wondered that he soon returned to the busy haunts of men. He took up his abode with us and followed his business of painting. The people were not slow to learn his qualifications to manage public business and as a consequence, he was elected one of the trustees of the village. He was also sent to the constitutional convention which assembled in 1848 to draft a state constitution. He successively filled the Office of Member of Assembly, Register of Deeds, member of the Common Council and Justice of the Peace, serving four years as Register and six years as Councilor. He was also for a time, proprietor of the Keystone State Hotel and proved a successful as well as courteous landlord. His life has been a busy one. He filled the various offices to which he was elevated by his constituents, in an able and creditable manner. His funeral will take place from his residence tomorrow afternoon at two o'clock.
CHARLES MCCORMICK
Sent in by a researcher/see contributors page
Source: Milwaukee Journal, August 25, 1936
McCORMICK, Charles, age 59, beloved brother of May Joerres and Margaret Juedes. Funeral Wednesday Aug. 26, 8:30 a.m. from the funeral home of Heiden & Lange to St. John Cathedral. Interment Calvary Cemetery.
MRS. ANNA MCEVOY
Source: Waukesha Freeman Jan 2, 1946
ATTEND FUNERAL FOR MILWAUKEE RELATIVE
Mr. and Mrs. Leonard Frederickson Mr. and Mrs. Bob Frederickson and Mrs. Albert Narum all of Waukesha were recently called to Milwaukee at the death of their sister-in-law and aunt Mrs. Anna McEvoy who died in Milwaukee on Saturday Dec. 22.
Funeral services were held from the Becker funeral home to the Holy Cross Catholic church Thursday. Interment was in the Calvary cemetery in Fond du Lac.
ROY MCGREGOR
(and from the Milwaukee Sentinel of March 4, 1942)
ROY MC GREGOR DIES, GREENHOUSE MANAGER
Roy McGregor, 42, manager of the greenhouses at KForest Home cemetery, died Tuesday at St. Luke's hospital. He lived at 2535 W. Forest Home av. He had been with the cemetery for 10 years and for the last six had been in charge of the greenhouses, a job his father, the late James McGregor, had held for 49 years.
Roy McGregor is survived by his widow, Rose Allie McGregor, three brothers, Alexander, Milwaukee; George M., Chicago: and John, Paterson, N.J., and two sisters, Mrs. Jean Burkhardt and Mrs. Lester Alexander, both of Milwaukee. Funeral services will be at 2 p.m. Thursday at the Layton Park Lutheran church; S. Twenty-eighth and W. Grant sts., with Rev. F. C. Proehl officiating. Burial will be in Forest Home cemetery. The body will be in state at the Tebo & Johnson chapel, 3232 W. Lincoln av., from 1 p.m,, Wednesday, to 10 a.m Thursday and thereafter at the church.
FIELDON J. MCQUITTY
Source: Milwaukee Journal, 21 June 1987
McQuitty, Fieldon J.
Born to Eternal life June 19, 1987, Age 66 years. Beloved husband, dear father; fond brother. Also survived by grandchildren, great-grandchildren, other relatives and friends. Funeral Tues. at 9 a.m. from the funeral home to Holy Apostles Church 16000 W. National Ave., at 10 a.m. Interment Holy Cross. In state Mon. from 4-9 p.m. with prayer service at 7 p.m. Member of the Hoeppner-Horn Bros. V.F.W. Post No. 5716. Guardalabene & Amato Schmidt & Bartelt Inc. 10121 W. North Ave. Wauwatosa
HENRY MEIENBURG
Source: From Der Nord Westen, Manitowoc, Wisconsin, 11 Feb. 1909
A Milwaukee newspaper reports that on Tuesday noon Henry Meienburg was killed by an engine of the Milwaukee-St. Paul Railroad. The deceased is a son of Charles Meienburg here and has worked for the Milwaukee Co. for several years. He is married and has 3 children. Tuesday afternoon he was on his way home and at the corner of 25th Street and St. Paul Avenue he was hit and killed by a so called transfer locomotive. In addition to his wife and 3 children he is survived by his elderly father here, as well as 5 sisters and 2 brothers. His wife is a daughter of the late Jacob Giefer.
From Der Nord Westen, 18 Feb. 1909: The body of Henry Meienburg was brought from Milwaukee, where he had been killed in an accident recently, to Two Rivers and the funeral conducted there from the residence of his mother-in-law, Mrs. M. Giefer. The funeral procession was very large and the profusion of floral displays gave evidence of the respect with which the deceased was held in Two Rivers. Pastor Giese, from the Ebenezer Lutheran Church in Milwaukee, conducted the funeral. Mr. Meienburg had not fallen beneath the wheels of the train but was hit with full force on the back of his head, killing him instantly. Except for a broken arm his body was not mutilated.
MRS. LYDIA MEIXNER
Sent in by a researcher/see contributors page
(appeared in the newspaper on March 25, 1942)
edited for living
Funeral services for Mrs. Lydia Rindsland Meixner, 44, who died Wednesday at her home, 4840 W. Scranton pl., after an illness of six weeks, will be held at Capitol Drive Lutheran Church at 3 p.m. Saturday. Burial will be in Forest Home cemetery. Mrs. Meixner, who was born in Waukesha, had spent most of her life in Milwaukee. She is survived by her husband, Joseph; two daughters, and her parents, Mr. & Mrs. Albert Winter, Okauchee.
MRS. MELMS
Source: Lima News (Lima, Ohio) 1899 December 14
Mail Bag used as Hearse
Ashes of a Milwaukee Woman are sent home from Germany by Way of the Mails.
So far as known, for the first time the United States mails have been used as a hearse. There was received at the post office at Milwaukee, the other day, a box which came from Heidelberg, Germany, and which contained the ashes of Mrs. Maria Melms, wife of the former Milwaukee brewer Charles T. Melms.
This box was about 13 inches long and seven inches wide and deep, was of wood and metal lined. It was addressed to Fred Strassau, superintendent of the William Becker Leather company, who was a son-in-law of Mrs. Melms.
This strange funeral procession only costs 86 cents for carriage. There was 50 cents worth of postage stamps pasted on the box and 36 more was charged at Milwaukee for overweight. The box was marked "Menschen asche," human ashes, and "of no value."
After the customs officials had ascertained that the box contained nothing dutiable it ws turned over to Undertaker Schweitzer, and will be placed without ceremony in the Melms family vault, the funeral having occurred in Germany.
Mrs. Melms was one of the oldest residents of Milwaukee. She came to Milwaukee in 1838, and resided here until a year ago. She went to Weisbaden, Germany, on account of failing health, being accompanied by her daughter Bertha. It was her last request that the remains be placed besides those of her husband in the Milwaukee cemetery, and after they were cremated at Heidelberg the ashes were forwarded in this strange fashion.
ELIZABETH MERZ
1882-1975
Sent in by a researcher/see contributors page
Source: Milwaukee Journal, May 20, 1975
Obit:Elizabeth Merz, nee Oberdorfer, beloved wife of Joseph J. Merz, died Tuesday, May 18 at 10:45 a.m., aged 63 years. Funeral Friday, May 21, at 8:15 a.m. from 1018 Cherry St. to St. Joseph's church. Interment Calvary Cemetery.
FRANCIS J. MEURER
The Brookfield News - February 19, 1988
Submitted by researcher. See Contributions page.
Died on February 12 in West Allis at the age of 88. A 17-year resident of Elm Grove, he was founder of Meurer Bakeries. He is survived by his wife, six children, and many other relatives and friends. Entombment was at Holy Cross Cemetery.
ALBERT E. MIELENZ
Milwaukee Journal of Feb. 16, 1945 - a picture accompanied article
MANY MOURN A. E. MIELENZ - DEATH OF INSURANCE MAN
REMOVES A BENEFACTOR, AIDE TO YM, CHARITY
A gentle old man, who had sent more time helping others than himself, and who still managed to become a considerable success, died Wednesday at Columbia hospital. He was Albert E. Mielenz. He was 82 years old. He had lived with his wife since 1902 in the modest home at 727 N. 32nd st.
Mr. Mielenz was general agent for Wisconsin and upper Michigan of the Aetna Life Insurance Co., a rather weighty job. But this obituary is going to be more about what Mr. Mielenz did when he wasn't selling insurance.
Mr. Mielenz (pronounced Meelens) had been a member of the YMCA since 1883; and especially active in boys' work. In 1892 he helped establish the first Milwaukee boys' camp at Lake Five. He had been a member of the YMCA board since 1891 and its president in 1938. He was president of the Goodwill Industries from 1922 to 1938 and subsequently served several terms as vice-president.
GAVE OWN MONEY, TIME
He personally gave substantial amounts to the Goodwill Industries and he induced others to make donations also. He also gave generously of his time and money to the Gideons and the Children's Home and Aid society. He also helped many young men through college. He not only gave them money, he also gave them the benefit of his counsel. He also was active for many years in the Wesley Methodist Church and was a teacher in the Sunday school.

The good works of Mr. Mielenz were recognized in 1940, when he was given the distinguished service award of the Cosmopolitan club. The award said:
"For many years he has helped every worth while civic organization financially and given time and counsel. And he continues to do so, without any self-sought-publicity or ostentation. The tremendous influence for good his quiet and unheralded contributions have made in the community can never be fully measured or known. They are reflected, however, in the happiness, renewal of hope and purpose in the lives of thousands."
FOLKS AND FRIENDSHIP
Mr. Mielenz truly lived what he called "the Christian life." He did not smoke or drink. Often he said "Folks and friendship, that's what really counts in life." His creed was: "Put yourself alongside somebody who needs it. It might be a kind word, it might be a dollar bill. It will do you more good than the person it helps."
A deeply religious man, Mr. Mielenz did not become cynical when he looked at the miseries and greed of the world. He said: "Remember the words that our Lord put into the mouth of Moses: 'Eternal God is the refuge, and underneath are the everlasting arms."
Mr. Mielenz was born at Pewaukee, the eldest son of a German immigrant farmer. He started working here in 1884 as a clerk for a hardware company. In 1885 he came into contact with the insurance business when he installed a stove in the office of Thomas R. Lynas, then manager of the Aetna Life Insurance Co. office here. Friendship grew out of the meeting. And six years later Mr. Mielenz quit the hardware job for life insurance.
RISE IN BUSINESS
He sold insurance for Aetna on a commission basis until 1902, when he was named assistant manager. In 1910 he became an agency partner and in 1918 he was appointed to the position he held until his death.
Surviving are his wife, Tabitha; two daughters, Miss May Mielenz and Mrs. Addie Martin; a son, Harold; two brother, Ernst and William, and three sisters, Misses Nora, Hattie and Emma Mielenz.
Funeral services will be held at 2:30 p.m. Saturday at the Forest Home chapel, with the Rev. Guy Nelson officiating. The body will be at the cemetery chapel from noon Saturday until the services and from 1 p.m. Friday to 11 a.m. Saturday at the Schmidt & Bartelt chapel, 8080 W. Vliet st.
HENRY MILLER
Source: SACRAMENTO RECORD-UNION JANUARY 30, 1878 (p. 3 Col.1)
Death of Henry Miller
Henry Miller, one of the earliest citizens of this city, died yesterday at his residence on Eighth Street, at the age of 71 years. Mr. Miller was a native of Rome, Oneida County, New York. He had ordinary advantages in early life. He developed strong tastes for a business life and engaged in mercantile pursuits in his native town at an early age. In 1832-33 he emigrated to Michigan, setting up a general variety store at Farmington. He remained there some five years, meeting with only passable success, owing to the unsettled condition of the country, it being but sparsely populated.
He removed to Milwaukee, Wisconsin, and engaged in general merchandise in that city. He took a great interest in that place, was enrolled in its Pioneer Society, and always maintained an affectionate regard for the people of Milwaukee, and is by them held in high esteem to this day. In 1850 the allurements of California drew him hither. He landed in Sacramento with his family, without surplus means, and at once made up his mind to remain in this city. He did so, and through all its trials he stood by it. His first employment here was of a clerical character, being engaged to expert some of the books of city officials. Soon after, in 1851, he secured a place in the bank of D.O. Mills where he remained until 1856, endearing himself to the officers, and being frugal he saved a fair surplus, so that in 1856 he was enabled to accept the offer made him and became one of the firm, which than consisted of D.O. Mills, Edgar Mills and Henry Miller, and as thus constituted it remained up to the day of his death. As one of the partners he became a principal manager and was always at his post. In 1872 the bank became the National Gold Bank of D.O. Mills & Co., and Mr. Miller was selected as its Vice President, a position he filled constantly thereafter. To his skill the success of the bank has been largely due.
Mr. Miller was a man of retiring disposition, and took little active part in political matters or local issues. He nevertheless took a keen interest in all State and municipal affairs, always had a decided opinion on all such matters, and was always ready to express it. The only official position Mr. Miller ever held here was in the Board of School Directors, where he served several terms and was recognized as a prominent member, doing a great deal of financial management for the Board and securing thereby the erection of some of our best schoolhouses. He was imbued with sterling patriotism, was a man of catholic views and exceedingly charitable disposition. He was slow to anger, cool and dispassionate in judgment, correct in all matters of business, and as regular as a man could possibly be in all duties assumed. There are a number of prominent business men in California who graduated, as it were, under his business tuition, and who have always looked up to him as a man of profound business wisdom and safe judgment, to whom for their success in life they are indebted. He was a strong spiritualist in belief, and was quite active in all investigations in that line. He lived a pure and blameless life; was an upright man in all his ways and commanded the respect and esteem of the entire community.
He leaves a wife and several children. One, Frank Miller, is Cashier of the bank of which his father was Vice President. Another son is engaged in business in Bingham in Utah. A daughter is the wife of a prominent merchant of Milwaukee, Mr. Pearson; one daughter resides in this city, and one son is a resident of San Francisco. Mr. Miller had been failing in health for some time. He seemed to be in a gradual decline, like one dying for want of nutritious food. His food refused to nourish his body, and he gradually sank. He was fully aware of his approaching dissolution, and was prepared for the dread messenger when he came. So placidly did he make all his arrangements, in view of his death, and so calmly meet his last hour, that the poignancy of grief occasioned by his decease was blunted, and much of the calmness and bravery of the dying man communicated itself to the family circle.
On the announcement of Mr. Miller's death yesterday, a mantle of gloom apparently fell over the city, flags were half-masted, and men met each other on the streets of businss, only to say, in subdued tones, "Henry Miller is dead - a noble and good man has gone from our midst.
ERNST MOHR
Source: Source: Der Nord Westen (Manitowoc, Wis), 07 May 1896
(From the correspondent in Kiel [Manitowoc County, Wis], 04 May)
Ernst Mohr, a young man of about 25, had the misfortune Fri. in Milwaukee of being run over by a train and killed. He was an employee of a wine company in Milwaukee. The day he was killed he was walking along the railroad tracks with his brother. His father, Friedrich Mohr, formerly lived here in Kiel, and Ernst himself was born here. He is well known in Kiel and surroundings.
MATHILDA BERTHA MORHAUSEN
Source: From Der Nord Westen, Manitowoc, WI 05 Mar. 1903
Death in Milwaukee on Fri. of Mrs. Mohrhusen, the aged widow of the late Mr. L. T. Mohrhusen. The lady had long been a resident here and many of our readers will remember her. The Mohrhusen family came here from Kiel. Mr. Mohrhusen operated a store on the corner of 8th and Quay Streets but sold the business in the 80's and moved to Madison to take a position in the office of the State Secretary. He lost his position in 1891 because of the change of parties, and the family moved to Milwaukee where Mr. Mohrhusen died several years ago. Mrs. Mohrhusen's body was brought here and taken to its last rest Mon. in the city cemetery.
She is buried in Evergreen Cemetery Manitowoc. Tombstone inscription: [W2-190-2]-Bertha/wife of L.T. Mohrhusen/Born/Oct. 16, 1861/Died/Feb. 27, 1903
DOROTHY R. MOKELKE
Newspaper unknown Date unknown
Mokelke, Dorothy R. (Nee Jenkins) Age 80, June 5, 1996. Beloved wife of the late Alois. Dear mother and grandmother. Further survived by sister-in-law, nephews, nieces, other relatives, and dear friends. Visitation, Friday June 7, from 1 PM until time of services at 3 PM at Luther Manor Faith and Education Center, 4545 N. 92nd St. Please use North Entrance. Memorials to St. Matthews Lutheran Church, Luther manor foundation, or the charity of your choice appreciated. Schmidt & Bartelt Wauwatosa
LEONARD J. MORIN
Source: Newspaper unknown
Morin, Leonard J.
Died Nov. 26, 1995, age 74 years. Beloved wife (sic) of Laverne (nee Strev). Survived by 1 son, 1 stepson, 2 grandsons and 1 granddaughter. Inurnment Sat. June 8, 10 AM. No Memorial service will be held.
HIRAM MORSE
Source: Wauwatosa News, Aug. 29, 1903
Hiram Morse died August 25, 1903, aged 76 years, at the home of his son W.B. Morse, on Blue Mound Rd. He was a native of Maine, where he was a businessman. He served as an officer in the 20th Reg. Maine Vol. during the war of '61. Rev. A.R. Thain conducted the service with interment in Forest Home Cemetery.
MRS CURTIS B. MORSELL, SR.
ATTORNEY MORSELL'S WIFE DIES
d.Dec.3, 1973
Mrs. Curtis B. Morsell, Sr., 72, died Wednesday of multiple scleroses at Lutheran Hospital of Milwaukee. She was hospitalized earlier Wednesday. Her husband is a semiretired patent attorney. For many years they lived at 4964 N. Woodburn St., Whitefish Bay. Mrs. Morsell had multiple sclerosis for aobut 35 years and for the past 1 1/2 years had been a resident at St. John's Episcopal Home of Milwaukee, 1234 N. Cass St.
The former Elizabeth Castle, she was born and educated in Quincy, Ill. She attended Lindenwood Junior College and was graduated from the University of Wisconsin in 1922. She married Morsell in 1923. She was a former member of the Woman's Club of Wisconsin and the Daughters of the American Revolution. In addition to her husband, she is surviv4ed by one daughter; one son; and one sister, Mrs. R. W. (Georgann) Spake, Quincy.
Services will be at 2 p.m. Saturday in the chapel of St. John's Episcopal Home of Milwaukee. Burial will be in Forest Home Cemetery. Funeral arrangements were made by the Weiss Funeral Home, 1901 N. Farwell Ave. The family suggested memorial contributions to the National Multiple Sclerosis Society, St. John's home or any charity.
BARBARA (LAUER) MUENCH
Sent in by a researcher/see contributors page
Source: Milwaukee Journal, February, 1945
MUENCH, Barbara (nee Lauer) of 2659 N. 22nd St., age 66 years, Beloved wife of Joseph, mother of Florian G., Leona, Jerome, Marie Margaret, and Joseph H., special artificer (sic) instruments. 2nd Class U.S.N. Funeral St. Leo's.
WILLIAM MULHOLLAND
Source: From Der Nord Westen, Manitowoc Wi, 27 Feb. 1908
William Mulholland, the youngest son of the late Peter Mulholland, died recently in Milwaukee at age 26. The body was brought here and buried yesterday from St. Boniface Church.
JAMES MAXWELL ("MAX") MURPHY
WRITER MAX MURPHY DIES AFTER TEXAS CRASH - LONG ACTIVE IN LEGAL, POLITICAL CIRCLES
James Maxwell Murphy, 47, a colorful figure in Milwaukee newspaper, legal and political circles for 20 years, died yesterday at Mt. Pleasant, Tex., after an automobile accident.
Murphy, who lived at 2967 N. Hackett Av., was Wisconsin correspondent for the Chicago Tribune from 1943 until 10 days ago when he resigned, according to the Tribune. He had also been a reporter for the Milwaukee Sentinel and the Wisconsin News.
After his resignation, he left on a motor trip through the Southwest. The accident occurred Wedneday when his car overturned four times while passing a truck on a highway near Mt. Pleasant.
REFUSED HOSPITAL CARE
According to Sheriff Coy M. Coker of Mt. Pleasant, Murphy was found in the back seat of the car, which landed upright, but refused hospital attention. He permitted the highway patrol to take him to a nearby tourist court, however. He died there sometime between 3 and 5 a.m. yesterday.
His apparent injuries from the accident were reported to be bruises in the left groin, knees and lower legs. The coroner's report by Justice of the Peace Grover Ard laid his death to natural causes.
Murphy was a native of Tignight, Prince Edward Island, the son of Dr. Patrick Murphy, a senator and leader of the Conservative Party of Canada.
He enlistd at 16 in the 25th Royal Nova Scotia Infantry Battalion and saw two years of active duty in France during World War I.
He came to Chicago in 1919, moving shortly to Milwaukee, where he worked for the Sentinel and the News. He became a naturalized United States citizen in 1923 and graduated from the Marquette Univrsity law school in 1926. He was admitted to the bar in 1927, and was a (unreadable) of the city, state and American Bar Associations. He practiced law until 1932
STAFF COLONEL
Gov. Zimmerman made him a staff colonel in 1928. After his service as publicity director of the Republican State Voluntary Committe, Govenor Heil appointedd him a lieutenant colonel and judge advocate general of the Wisconsin State Guard in 1941.
He was active in the Military Order of the World Wars, serving as a national vice commander from 1940 to 1943, and as commander of Gen. Charles King Post in 1941.
He is survived by his wife, Mrs. Elizabeth Forsyth Johnston Murphy; two stepsons, Kenneth and Charles Johnston; one sister and five brothers.
Murphy's body is expect to arrive here either tonight or early Sunday, according to Kenneth.
(Murphy is buried at Forest Home Cemetery in Lot 8, Block 4, Section 31 so if you want to use it, hold off until next week and I will look up in other records at the cemetery the date of his death)
MRS. JAMES (Elizabeth) MAXWELL MURPHY
Milwaukee Newspaper
The date was cut off at "RY 16, 1917" so could be either January or February RITES TODAY FOR MRS. MURPHY
Services for Mrs. James (Elizabeth) Maxwell Murphy of 2967 N. Hackett Ave., will be at 2:30 p.m. Saturday at St. Paul's Episcopal Church, 914 E. Knapp St. Mrs. Murphy, 82, widow of a Milwaukee newsman, died Thursday of complications of age at Shorewood Hospital. In 1912, she married John T. Johnston, a Milwaukee banker, who later died. She married Murphy, a correspondent for the Chicago Tribune, in 1934. Murphy died in 1947 in Texas after an automobile accident. Mrs. Murphy's grandfather, Cyrus Knight, was a bishop of the Episcopal Church in Wisconsin. She was a member of various area service clubs and in 1941 unsuccessfully ran for the office of school board director. She is survived by two sons, Charles Johnston, Chicago, and Kenneth Johnston of Milwaukee, and a brother, Charles Forsyth, of Santa Barbara, Calif. Burial will be at Forest Home Cemetery
DORIS R. MYSZKA
newspaper unknown
Myszka, Doris R.
(Nee Ostreich. Wed., June 5. 1996, age 70 years. Beloved wife of the late Victor. Dear mother,. Further survived by 13 grandchildren, 1 sister, nices, nephews, other relatives and friends. Funeral services Sat. 10 AM at Corpus Christi Church, 8607 W. Villard Ave. Entombment Holy Cross Cemetery, in state Fri., at the Funeral Home 4 to 8 PM and Sat. at the Church from 9 AM until Mass. In lieu of flowers, memorials to St. Jude Children's hospital, P.O. Box 3704, Memphis, Tn 38173-0704 Schramka Funeral Home 7841 W. Appleton