Luther Parker Cemetery
Also Known as Drought Cemetery, Durham Hill Cemetery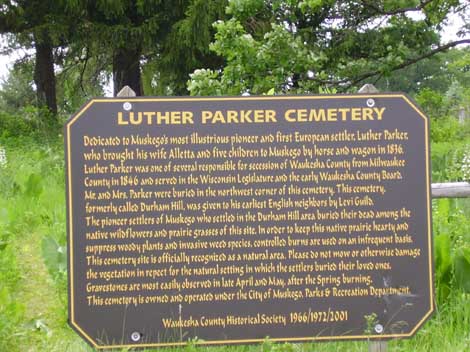 Luther Parker Cemetery Sign
Location
History
This cemetery was established about 1843. It is now inactive, the latest burial being 1958.
The sign above reads:

"Dedicated to Muskego's most illustrious pioneer and first European settler, Luther Parker, who brought his wife Alletta and five children to Muskego by horse and wagon in 1836. Luther Parker was one of the several responsible for succession of Waukesha County from Milwaukee County in 1846 and served in the Wisconsin Legislature and the early Waukesha County Board. Mr. and Mrs. Parker were buried in the northwest corner of this cemetery. This cemetery, formerly called Durham HIll, was given to his earliest English neighbors by Levi Guild. The pioneer settlers of Muskego who settled in the Durham Hill area buried their dead among the native wildflowers and prairie grasses of this site. In order to keep the native prairie hearty and suppress woody plants and invasive weed species, controlled burns are used on an infrequent basis. This cemetery site is officially recognized as a natural area. Please do not move or otherwise damage the vegetation in respect for the natural setting in which the settlers buried their loved ones. Gravestones are most easily observed in late April and May, after the Spring burning. This cemetery is owned and operated under the City of Muskego Parks & Recreation Department. Waukesha County Historical Society 1966/1972/2001.
This cemetery was originally called Durham Hill Cemetery and has also been known as Drought Cemetery because of the members of the Drought family that are buried here. The Drought family was the first to settle in Norway Township, Racine County in 1838.
In 1965 the name was changed to Luther Parker Cemetery in honor of Luther Parker, the first settler to the town of Muskego.
Records
No death records for any of these people were found in the Waukesha Records. Possibly their deaths were recorded in Milwaukee County or Racine County. There are no official records of the cemetery.
Transcriptions and Photos

View of the grasses in the cemetery
Photos were graciously taken and donated by Brian D. Click on the surname to see a photo if it is available on this site. Obituaries, when available, are linked to the individuals name.


ADAMS:
Robert Adams/b. 1799/Bottomsham,Cambridgeshire, England/
	d. 25 Dec 1865/age 66 yr

ALTENBER:
Albert D. Altenber/d. 21 Oct 1870/age 1 yr 4 mo/son of Mena

ANDERSON:
John Anderson/d. 19 Jan 1878
Margaret J. Anderson/d. 13 Mar 1861/age 70 yrs
Samuel Y. Anderson/d. 6 Sept 1865/age 80 yr
Margaret A. Anderson/d. 30 April 1865/age 3 yr 2 mo 10days/
	daughter of H.J. & E Anderson

BASTALL:
See RESTALL

BENTLEY:
Alfred Bentley/b. 8 Nov 1845/d. 8 Jan 1849/age 3 yr 3 mon
Michael Bentley/d. 18 Aug 1849/age 30 yr

BILLS: (could be Biles)
Henry/son of Samuel & Phoebe Bills/d. 26 Nov 1856/
	age 12 yr 10 mo 11 da

BLAIN:
Samuel Blain/d. 22 July 1849/age 33
Agnes Blain/wife of Samuel/d. 22 July 1849/weathered stone
William Blain/d. 17 Apr 1853/age 9 yr 5 mon
John Blain/b. 1778/d 10 Apr 1850/age 72 yr
Jane (Todd) Blain/wife of J. F./b. 1821/d. 1 Aug 1849/age 28 yr

BRICE:
Amelia Brice/1857-1928
Thomas Brice/Father/b. 23 Aug 1824/d. 5 Oct 1889
Alice Brice/Mother/b. 5 Mar 1825/d. 2 June 1908/nee Drought/
	next to Brother W.B. Drought (see Drought below)
Edward Brice/1858-1949
Frank Brice/1867-1958

BRICE:
See DROUGHT

CLARK:
Homer H. Clark/d. 20 Oct 1863/age 24 yr 7 mo/First Lieutenant in
	Civil War Died of Wounds received at Battle of
	Chicamaugua, Ga, 19 Sept 1863 Died at Nashville, Tenn
	16th U.S. Inf. Broken headstone

DROUGHT:
William Drought/b. 10 Apr 1807/d. 27 Mar 1894
Elizabeth Drought/b. 2 Sept 1811/d. 9 Jan 1892
Lucinda HUTCHINSON/wife of J. Hutchinson/b. 1832/d. 27 Sept 1870/
	age 38 yrs 8 mo 23 da
William Drought/d. 3 Mar 1868/age 18 yr 8 mo 3 da/son of Wm. & E.
Mary Ellen Drought/1846-1913
Thomas Drought/b. 16 Aug 1817/d. 5 Dec 1898
Caroline M. Drought/b. 8 Apr 1823/d. 25 Dec 1894
George Drought/1828-1907
George Drought/d. 29 Nov 1859/age 77 yr 7m 4d
Mary L. Drought/d. 6 Oct 1867/age 4 mon/daughter of W.R. & D. Drought
Mother Drought/1843-1889
Father Drought/1832-1908/W.B. Drought/did June 1908/next to Alice Brice
	See Brice above

DROUGHT:
See BRICE

DROUGHT:
See MCCONAHY

FILLMORE:
John A./b. 1790/d. 18 Aug 1850/age 60 yr 4mo 11 da
Norman/b. 1812/d. 28 Oct 1847/age 35
Minerva/wife of Newman Fillmore/b. 1816/d. 27 July 1864/
	age 48 yr 7 mo 22 da 

GILBERT:
One stone
Children of W. & B. Gilbert
James Gilbert/d. 5 Feb 1866/age 1 mo 14 da
Jane Gilbert/d. 8 Oct 1867/age 9 mon
Mary Ann Gilbert/d. 21 Oct 1862/aged 1 yr 4 mon
John Gilbert/b. 3 Jan 1864/d. 10 Nov 1893

GREENE:
Selwyn D. Greene/son of Geo. & Sarah Greene/d. 5 Dec 1860/
	age 1 yr 8 mon/date of stone buried beneath the ground
	in 1940

HAY:
John Hay/son of Thomas/weather-beaten/flat stone/no dates
Joseph M. Hay/son of J & E.M. Hay/b. 11 Sept 1866/d. 21 Dec 1895

LAYTON:
Adelaide Layton/d. 11 Dec 1867/age 3 yr 7 mon 4 da/daughter of H.(or A)
	& D. Layton

LONGSTREET:
May Longstreet/wife of Aaron Longstreet/b. 1776/d. 7 Feb 1847/
	age 74 years/flat stone

MCCONAHY:
Hugh McConahy/Father/b. 6 Nov 1841/d. 30 Dec 1928
Mary H. (Drought) McConahy/b. 3 Oct 1845/ no death date listed
Robert McConahy/b. 24 Oct 1878/d. 30 Apr 1891
Sarah J. McConahy/b. 17 July 1818/d. 6 May 1891
	placed by her son

MEIER:
Lizzie Meier/b. 14 Apr 1872/d. 17 Jan 1880
Otilia Meier/b. 9 Dec 1867/d. 18 Jan 1880
I found two different transcriptions of this cemetery.
In both of the listings, Lizzie and Otilia were listed.
But their dates were reversed.  I listed them this way
but they could very well be different.

____________/b. 4 Sept 1880/12 Oct 1880
_______no name/d. 1880/Weather-beaten & Broken Stones

PARKER:
Luther Parker/1800-1853
Alleta (French) Parker/wife of Luther Parker/1803-1849
The first permanent settlers in Muskego Township

PATTON:
John Patton/d. 10 Sept 1879/age 28 yr 10mon 20 days
Stone erected by his brother Robert Patton

RESTALL(could be BASTALL):
Margaret A./d. 18 Oct 1855 (year could be wrong)/
	daughter of A. & A RESTALL/age 1 yr 18 da

SEXTON:
Thomas T. Sexton/b. 1799/d. 7 Nov 1847/age 71 yr/flat stone
Thomas S. Sexton/son of Arnold & Perssis Sexton/d. Aug 1854/age 2 weeks

SMILEY:
T. Newton Smiley/1857-1932
Caroline M. Smiley/1842-1924
Diana Smiley/1820-1900
George Smiley/1818-1905
Jonathan W. Smiley/d. 4 Nov 1862/at Lexington, KY(Civil War Veteran)
Robert Smiley/1852-1933
Sarah Smiley/wife/1854-1934
Grace Smiley/b. 3 Jan 1885/d. 14 Sept 1903/daughter
Baby Boy Smiley/b. 14 Apr 1900/d. 1 Sept 1900
Walter O. Smiley/1887-1940

STORTZ:
Louisa Stortz/b. 25 Mar 1841/d. 21 Feb 1909
George Stortz/b. 5 Mar 1837/d. 25 May 1917

TODD:
See BLAIN